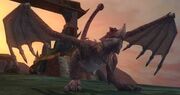 .
EverQuest II Named Monster Information
Zone (Patch)
Dracur Prime (Shattered Lands)
Race
Wyvern
Level
98▲▲▲ Tier 10 Heroic , (Approx. HP: 38,500,000)
Location
Dracur Prime
Reported Drops
none reported, try LootDB.
Melee Attacks
Pierce/Slash
Special Attacks

Long Forgotten Winter (Cold)
Grimscale Wrath (Heat)
Grimscale Grasp (Slashing)
Icicled Breath (Piercing)
Blighted Storm (Cold)

AA Exp
Yes
Status Points
unknown
What does this information mean?
Has kickback and some pretty nasty aoe. Overall it's a tank and spank encounter with some cures. Best for squishies to keep their distance.
Ad blocker interference detected!
Wikia is a free-to-use site that makes money from advertising. We have a modified experience for viewers using ad blockers

Wikia is not accessible if you've made further modifications. Remove the custom ad blocker rule(s) and the page will load as expected.