In-Game Examine Window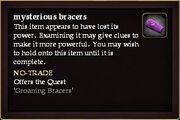 EverQuest II Item Information
Type: Quest Starter

Mysterious bracers

This item appears to have lost its power. Examining it may give clues to make it more powerful. You may wish to hold onto this item until it is complete.
 
Offers the Quest
'Groaning Bracers'

Obtain: From mobs in Wailing Caves.
What does this information mean?
Dropped by scout of Ree
Ad blocker interference detected!
Wikia is a free-to-use site that makes money from advertising. We have a modified experience for viewers using ad blockers

Wikia is not accessible if you've made further modifications. Remove the custom ad blocker rule(s) and the page will load as expected.