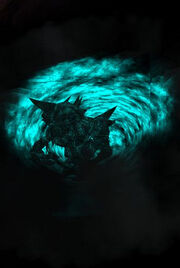 .
EverQuest II Named Monster Information

| | |
| --- | --- |
| Zone (Patch) | Palace of the Ancient One (The Shadow Odyssey) |
| Race | Shadowed Man |
| Level | 88▲▲▲ Tier 9 Epic x4 |
| Location | |
| Reported Drops | Blackened Pearlescent Bangle Circling Globes of Dark Dark Void Pauldrons Pattern Everliving Pauldrons Pattern Glowing Void-Pearl Bracelet Shadow Pauldrons Pattern Spiked Ravager Band Undying Pauldrons Pattern Vampiric Pauldrons Pattern Void Infused Pauldrons Pattern Void-Darkened Shard of Strength |
| AA Exp | unknown |
| Status Points | unknown |
What does this information mean?
When you get the purple screen, ground yourself to (click) the void lamp or you will wipe the raid.
C2C or have the yellow detrimental cured or else it might interrupt you when you click the lamp.
Ad blocker interference detected!
Wikia is a free-to-use site that makes money from advertising. We have a modified experience for viewers using ad blockers

Wikia is not accessible if you've made further modifications. Remove the custom ad blocker rule(s) and the page will load as expected.