What does this information mean?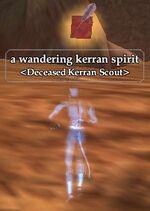 Speak to a wandering Kerra spirit that wanders around The Petrified Badlands.

Wanders anywhere in the area from The Eye of Dartain ( 1780, 0, 4288 ) 

/waypoint 1780, 0, 4288

to the northwestern edge of The Petrified Badlands at ( 2024, -15, 3880 ) 

/waypoint 2024, -15, 3880

to just north of The Highland Salts at ( 1034, 31, 3494 ) 

/waypoint 1034, 31, 3494

.
You will be attacked by a wandering nightmare as you move around.
Note: you can see where the spirit on the map is while you are near Keyta. if you waypoint point (click on him on the map), the waypoint will follow him

Return to Keyta.
Ad blocker interference detected!
Wikia is a free-to-use site that makes money from advertising. We have a modified experience for viewers using ad blockers

Wikia is not accessible if you've made further modifications. Remove the custom ad blocker rule(s) and the page will load as expected.