In-Game Examine Window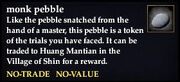 EverQuest II Item Information
\aITEM 801926730 -352060294:Monk Pebble\/a \aITEM 801926730 -352060294:Monk Pebble\/a
What does this information mean?
Monk pebbles are used to obtain titles from the Tower of the Four Winds. First, you must obtain access to the tower. Then you can begin collecting the pebbles. The pebbles can be obtained through the different trials available in the tower, which come in a Solo or a Heroic variety (the Heroic versions grant more pebbles). Monk Pebbles can also be dropped by mobs inside the trials, although this is rare. The trials each have their own 3-day success lockout timer.
Once you have enough pebbles to purchase a title, visit Brother Huang Mantian in the first floor of the tower.
Trials by Floor
See the Fallen Dynasty Timeline
Ad blocker interference detected!
Wikia is a free-to-use site that makes money from advertising. We have a modified experience for viewers using ad blockers

Wikia is not accessible if you've made further modifications. Remove the custom ad blocker rule(s) and the page will load as expected.