Ad blocker interference detected!
Wikia is a free-to-use site that makes money from advertising. We have a modified experience for viewers using ad blockers

Wikia is not accessible if you've made further modifications. Remove the custom ad blocker rule(s) and the page will load as expected.
In-Game Examine Window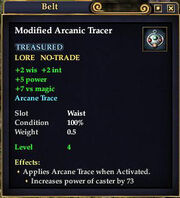 Modified Arcanic Tracer

TREASURED
LORE   NO-TRADE

+2 wis

+2 int




+5 power

+7 vs arcane

Arcane Trace
 
Slot
Waist
Level
4 (Tier 1)
 
Effects:


Applies Arcane Trace when Activated

Increases power of caster by 73
The casting time of Arcan Trace is 1.0 second and the reuse time of the spell is 10 minutes
Obtain: Reward from the quest "More Quality" in Temple Street.
What does this information mean?