In-Game Examine Window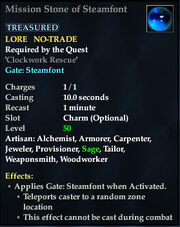 What does this information mean?
Note: this single-use bauble can be purchased for

6g

from Koros Splinterlimb in the Isle of Mara. It is used for fast travel to the Steamfont gate, The Clockwork Workshop Access Hatch (a tradeskill instance) when working on the quest, Clockwork Rescue.
Ad blocker interference detected!
Wikia is a free-to-use site that makes money from advertising. We have a modified experience for viewers using ad blockers

Wikia is not accessible if you've made further modifications. Remove the custom ad blocker rule(s) and the page will load as expected.