What does this information mean?

Grassblade, an accomplished Green Hood burglar, was nearly caught by Scourge orcs at Fort Klag in Hounds' Gorge. He got out alive, but he dropped his satchel of blessed lockpicks. I've promised to recover them for him, in hopes of a favor.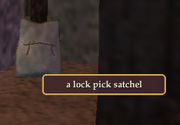 Find Grassblade's lock pick satchel.
The satchel is located in Fort Klag in one of the tents ( -206, -28, -101 ) 

/waypoint -205.84, -27.56, -100.77

. Click the satchel.
Find 8 of Grassblade's lock picks by slaying Scourge orcs in the fort.
Return to Grassblade.
Ad blocker interference detected!
Wikia is a free-to-use site that makes money from advertising. We have a modified experience for viewers using ad blockers

Wikia is not accessible if you've made further modifications. Remove the custom ad blocker rule(s) and the page will load as expected.