What does this information mean?

Grassblade, an accomplished Green Hood burglar, was nearly caught by Scourge orcs at Fort Klag in Hounds' Gorge. He got out alive, but he dropped his satchel of blessed lockpicks. I've promised to recover them for him, in hopes of a favor.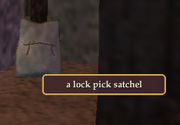 Find Grassblade's lock pick satchel.
Note: The satchel is located in Fort Klag in one of the tents ( -206, -28, -101 ) /waypoint -205.84, -27.56, -100.77 
(other locations inside the various tents are possible). Click the satchel.
Find 8 of Grassblade's lock picks by slaying Scourge orcs in the fort. (Plenty of Orcs in Hounds' Gorge, to the east, work as well.)
Return to Grassblade.
At least

1p

 

53g

 

9s

13,200 status @ L100

1p

 

53g

 

9s

11,599 status @ L110
Completing this quest gives +500 faction with The Green Hoods
One of the following: