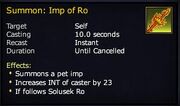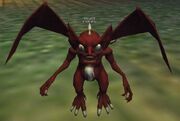 EQ2 Deity Pet Information
Deity
Solusek Ro
Target
Self
Casting
1.0 seconds
Recast
0 seconds
Duration
Until Cancelled
Effects:

Increases WIS, STA, INT, AGI, and STR of caster by xx.x

Obtain:
Ro's Vessel, #3 of the Solusek Ro Timeline
Quotes
Ay yai yai ERP!
Fizzity fazzity boom!
Frizzly frazzly boom! The imp walked in the room!
Gurgle gurgle snort burp!
Impity imp imp imp!
Sol sol SOL! Ro ro RO!
Whatsa matta? Imp got your tongue? Gimme that!
Ad blocker interference detected!
Wikia is a free-to-use site that makes money from advertising. We have a modified experience for viewers using ad blockers

Wikia is not accessible if you've made further modifications. Remove the custom ad blocker rule(s) and the page will load as expected.