Ad blocker interference detected!
Wikia is a free-to-use site that makes money from advertising. We have a modified experience for viewers using ad blockers

Wikia is not accessible if you've made further modifications. Remove the custom ad blocker rule(s) and the page will load as expected.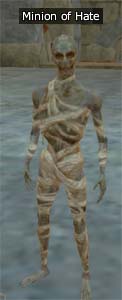 EQ2 Deity Pet Information
Deity
Innoruuk
Target
Self
Casting
10.0 seconds
Recast
0 seconds
Duration
Until Cancelled
Effects:

Increases WIS, STA, INT, AGI, and STR of caster by xx.x

Obtain:
A Necessary Step, #3 in Innoruuk Timeline
Quotes
"Hate all. Trust no one. Do wrong to all."
"Groundless hope, like unconditional love, is worthy of monumental efforts to crush!"
"All mortals are capable of hate, one must simply find the proper motivation to let them see the truth."
"Only hate can truly drive out the light!"