Ad blocker interference detected!
Wikia is a free-to-use site that makes money from advertising. We have a modified experience for viewers using ad blockers

Wikia is not accessible if you've made further modifications. Remove the custom ad blocker rule(s) and the page will load as expected.
In-Game Examine Window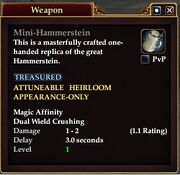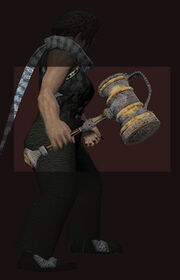 Mini-Hammerstein
This is a masterfully crafted replica of the great Hammerstein, a holy weapon wielded by The Order of Hammerhall. Priests who were devoted to the words of Brell Serilis and the secrets of the artifacts of the Duke of Below.

TREASURED
ATTUNEABLE   HEIRLOOM   APPEARANCE-ONLY
 
Magic Affinity
Two-Handed Crushing
Damage
1 - 2                  (1.1 Rating)
Delay
3.0 seconds
Level
1 (Tier 1)
 
Obtain: Reward from the quest "Deep Within Hammerhall" in Butcherblock Mountains.
What does this information mean?
This is a hammer-style weapon; though the level and damage rating is low it can be equipped in the weapon appearance slot.
It consists of a stein on the end of the shaft.
A larger version, Hammerstein, can also be chosen as a quest reward when completing the same quest.
| | |
| --- | --- |
| | This article refers to events, personae and activities only present in-game during the annual Brew Day celebration, which comes to Norrath each year the week of March 17th. |