Ad blocker interference detected!
Wikia is a free-to-use site that makes money from advertising. We have a modified experience for viewers using ad blockers

Wikia is not accessible if you've made further modifications. Remove the custom ad blocker rule(s) and the page will load as expected.
In-Game Examine Window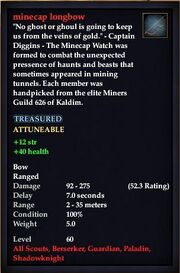 Minecap longbow
"No ghost or ghoul is going to keep us from the veins of gold." -Captain Diggins - The Minecap Watch was formed to combat the unexpected pressence of haunts and beasts that sometimes appeared in mining tunnels. Each member was handpicked from the elite Miners Guild 626 of Kaladim.

TREASURED
ATTUNEABLE

+12 str




+40 health



 
Bow
Ranged
Damage
92-275                  (52.3 Rating)
Delay
7.0 seconds
Level
60 (Tier 7)
 
Obtain: From the Small Chest of Kragbak spectator in Kaladim.
What does this information mean?