Ad blocker interference detected!
Wikia is a free-to-use site that makes money from advertising. We have a modified experience for viewers using ad blockers

Wikia is not accessible if you've made further modifications. Remove the custom ad blocker rule(s) and the page will load as expected.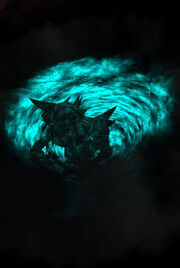 .
What does this information mean?
The HP above comes from the ACT parser. His two sidekicks took about 4 - 4.5 million damage each, so the entire encounter required approximately 12 million in DPS to bring them down. The book adds were minimal and were easily defeated with our AoE.
Follow the strategies below to reduce the HP required to take this mob down. If not, you may find yourself throwing out an infinite amount of DPS and never taking them down.
Way1

Assign 2 people on killing books. The effect on the book corpse drop will make the Orb in the middle of the room go down. The orb slowly goes up by itself. If the orb either touches the ceiling or the bottom you get a fail AE. Take 3 nameds down close to eachother (within 20%). When they die the first time they will come back to 100% one by one. Same deal burn down, no books this time. They will revive once more and will then die (total 3 times you have to bring their health 0%). Endurance fight. Good luck.

Way2

Assign 2 people on killing/looting books.

The effect on the book corpse drop will make the Orb in the middle of the room go down. The orb slowly goes up by itself.
If the orb touches the ceiling you get a fail AE.

As soon as one of the 3 named got down to 1% the orb stops going to the top.

Killing books no longer needed at this point

While all 3 named are at 1% the orb is going back to bottom

Kill the 3 named if they revive before the orb reachs the bottom

When the orb reached the bottom (and vanished) the 3 named will heal up
The 3 named can be killed now (one by one or all 3 at the same time)