Ad blocker interference detected!
Wikia is a free-to-use site that makes money from advertising. We have a modified experience for viewers using ad blockers

Wikia is not accessible if you've made further modifications. Remove the custom ad blocker rule(s) and the page will load as expected.
In-Game Examine Window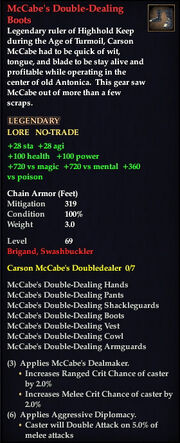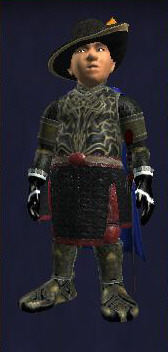 McCabe's Double-Dealing Boots
Legendary ruler of Highhold Keep during the Age of Turmoil, Carson McCabe had to be quick of wit, tongue, and blade to be stay alive and profitable while operating in the center of old Antonica. This gear saw McCabe out of more than a few scraps.

LEGENDARY
LORE   NO-TRADE

+28 agi

+28 sta




+100 health

+100 power


+360 vs noxious +720 vs arcane

 
Chain Armor (Feet)
Mitigation
319
Level
69 (Tier 7)
Brigand, Swashbuckler
 
Obtain: From Axxyk'Tuur in Obelisk of Blight.
What does this information mean?
Armor Set: Carson McCabe's Doubledealer
McCabe's Double-Dealing Boots
---
(3) Applies McCabe's Dealmaker

Increases Ranged Crit Chance of caster by 2.0%
Increases Melee Crit Chance of caster by 2.0%

(6) Applies Aggressive Diplomacy

Caster will Double Attack on 5.0% of melee attacks