What does this information mean?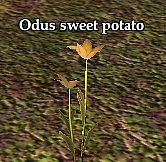 Gather 8 Odus sweet potatoes. These appear as small flowers just outside Quel'ule ( 34, 370, 728 ) 

/waypoint 34, 370, 728

 
Return to Chef Bahiyya and hail her.
Taste the stew by clicking the cauldron beside Bahiyya.
Speak again to Chef Bahiyya.
At least

1p

 

15g

After this quest is completed, you may also drink from the cauldron next to the NPC to gain a temporary buff called "Chef Bahiyya's Savory Stew" which will increase your Max Health by 400 hitpoints, and your Crit Chance by 5%. This is only active while in The Sundered Frontier or The Stonebrunt Highlands, however.
Ad blocker interference detected!
Wikia is a free-to-use site that makes money from advertising. We have a modified experience for viewers using ad blockers

Wikia is not accessible if you've made further modifications. Remove the custom ad blocker rule(s) and the page will load as expected.