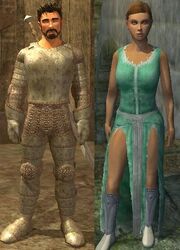 .
What does this information mean?
Adham hits very, very hard. He has a knockback, so make sure your back is not pointing to other mobs in the zone or you may find yourself with adds that you hadn't counted on.
He's also surrounded by other groups of mobs on that little island in the pond (one of which contains another heroic named mob, Mastermind Hamzah. Neither Adham nor the other groups have a very large aggro radius, however, so it's pretty easy to proximity-pull the other groups away from him if your group is concerned about adds.
And yes, they're all social people on that island, so if you aggro-pull with spells or thrown weapons, you'll get the whole island.
There are no placeholders and no respawn; Hidden Cache is a group instance.
Adham has also been credited with dropping the following significant items:
Ad blocker interference detected!
Wikia is a free-to-use site that makes money from advertising. We have a modified experience for viewers using ad blockers

Wikia is not accessible if you've made further modifications. Remove the custom ad blocker rule(s) and the page will load as expected.