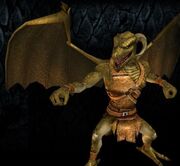 .
What does this information mean?
Grouped with Xerxis Mal'Fyrm and Ariorb Vel'Kera. a Bloodscale usurper adds are spawned to assist the group. Depending on how long it takes you to take down the name mobs, adds will keep spawning, for me they added up to 30 million alone.
This guy doesn't heal nor put put much dps. This guy spawns adds so it may be best to kill him first instead of the Ariorb (healer).
Keep the party away from the mob when it emotes. The mobs has many aoe's but they aren't that devastating. Combined group has lots of hp and you need to be able to manage the adds as well. Having a group with strong tank and aoe is a must for this encounter.