What does this information mean?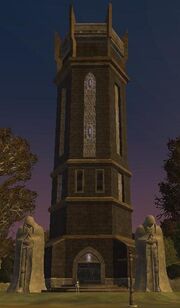 Tradeskillers cannot fly near it until they complete Final Assessment; adventurers must have completed [quest needed].
When the zone Isle of Refuge was the original starting point for beginning characters, Malvonicus' Tower was the first real landmark learned. When the Isle was divided up into Queen's Colony and Outpost of the Overlord, the tower remained in each zone but was renamed Myrrin's Tower and Sythor's Spire, respectively. The recombined tower was blown to floating bits for the Altar of Malice storyline, and the resulting landmark was renamed Malvonicus' Folly.
Related Quests
Edit
Ad blocker interference detected!
Wikia is a free-to-use site that makes money from advertising. We have a modified experience for viewers using ad blockers

Wikia is not accessible if you've made further modifications. Remove the custom ad blocker rule(s) and the page will load as expected.