For other articles with related titles, see Malkonis D'Morte.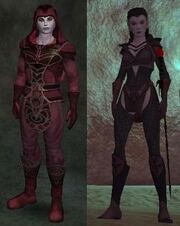 .
What does this information mean?
This is the fourth named mob in Freethinker's Hideout.
To spawn him
Make sure to not kill the third name (Treyloth D'Kulvith) before doing the steps below.
Look for a set of clickable bones(doodaddle's Soul Sensor). (place it on your hotbar, will be needed to activate) Head to every dirt wall and activate the sensor. If there is noise you want to place a bomb barrel(the first bomb barrel is in the zylphax name's room, to the back left wall), blow it up and talk to the npc inside and there should be another bomb barrel. Do this repeatedly till you get all 4 done.(if they turn into werewolves you messed up, 4th name wont be spawning on that lockout.)
After killing Treyloth D'Kulvith examine the picture frame on the left, after the third named mob is dead
then pull the lever
Ad blocker interference detected!
Wikia is a free-to-use site that makes money from advertising. We have a modified experience for viewers using ad blockers

Wikia is not accessible if you've made further modifications. Remove the custom ad blocker rule(s) and the page will load as expected.