For other articles with related titles, see Maligned Gyro.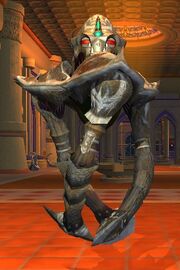 .
What does this information mean?
The hall is filled with spiral rippers, which cast an elemental detriment called Whirling Gale that hits for 20K-80K. It's a dodging game.
Clear the paired bladed custodians and totally avoid swarming rippers (two groups of eight each) to reach the Maligned Gyro.
Pull the Maligned Gyro to the door area so you can avoid the swarms of adds on either side. During the fight, he will summon a handful of swarming rippers. Move away from the summoned rippers if they get near you.
Ad blocker interference detected!
Wikia is a free-to-use site that makes money from advertising. We have a modified experience for viewers using ad blockers

Wikia is not accessible if you've made further modifications. Remove the custom ad blocker rule(s) and the page will load as expected.