In-Game Examine Window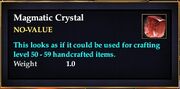 EverQuest II Item Information
Type: Quest Item

Magmatic Crystal

This looks as if it could be used for crafting level 50 - 59 handcrafted items.
 
NO-VALUE
Required by the Quest
'A Thread of Hope'

Obtain: Harvested in The Deep Forge near the lava under the catwalk ( 26, -8, -17 ) 

/waypoint 26, -8, -16.5
What does this information mean?
harvest node locations:
-104, -9, -35
48, -5, -43
-71, -7, -77
---
three crystals obtained per node.
these do not respawn until zone reset.
Ad blocker interference detected!
Wikia is a free-to-use site that makes money from advertising. We have a modified experience for viewers using ad blockers

Wikia is not accessible if you've made further modifications. Remove the custom ad blocker rule(s) and the page will load as expected.