In-Game Examine Window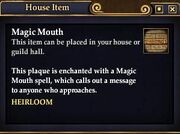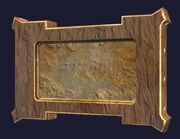 EverQuest II Item Information
\aITEM -516246143 -415629126:Magic Mouth\/a \aITEM -516246143 -415629126:Magic Mouth\/a
What does this information mean?
The magic mouth will display a brief message on the screen of players who approach its vicinity. For example, you can use it in your house to tell visitors about the house or in a guild hall to remind members of upcoming events.
Items with identical functions but different styles can also be purchased from the city-themed merchandise vendors during any of the City Festivals held each month. For example, you can buy a version of this item styled to match other Freeport furniture, one to match New Halas and so on.
Ad blocker interference detected!
Wikia is a free-to-use site that makes money from advertising. We have a modified experience for viewers using ad blockers

Wikia is not accessible if you've made further modifications. Remove the custom ad blocker rule(s) and the page will load as expected.