.
What does this information mean?
At the beginning of the fight, several fallen dead spawn and attack. They drop Necrotic Flashpots that must be farmed for the fight against The Three Sages.
At 90%, Maalus will emote that he is beginning a ritual. Right click him and prevent. Failure to prevent causes him to become Maalus Imbued.
Maalus has many curses, but only one needs to be cured. Curse of Devastation is a health and power drain that, if a cursed character dies, will spread to other raid members near him.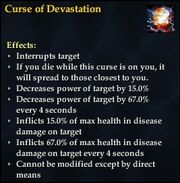 Ad blocker interference detected!
Wikia is a free-to-use site that makes money from advertising. We have a modified experience for viewers using ad blockers

Wikia is not accessible if you've made further modifications. Remove the custom ad blocker rule(s) and the page will load as expected.