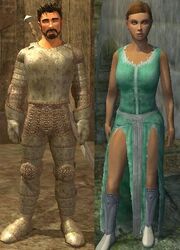 .
What does this information mean?
Pet pull him out of the room and tank with your back to something.
He ports characters randomly throughout the fight to two locations. The first location is just outside of his room (hence why you pull him out to there) and the second location is on the first floor below that; you'll have to run back to him.
Tank and spank to win the encounter.
After the first named has been killed the key mob will spawn behind some boxes on the first floor.
Ad blocker interference detected!
Wikia is a free-to-use site that makes money from advertising. We have a modified experience for viewers using ad blockers

Wikia is not accessible if you've made further modifications. Remove the custom ad blocker rule(s) and the page will load as expected.