What does this information mean?
Prerequisites
Edit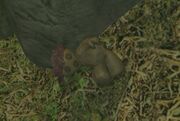 Help Vripp find a lost toy. When looking for the toy, keep in mind the following:

The toy spawns randomly throughout the zone and may be located on top of walls, between tree roots, or within huts. (See the talk page for locations)
It looks like a smaller version of Billy from Nektropos Castle, (but it is not small).
Turning off flora may make your search easier.

Speak with Vripp for your reward.
Ad blocker interference detected!
Wikia is a free-to-use site that makes money from advertising. We have a modified experience for viewers using ad blockers

Wikia is not accessible if you've made further modifications. Remove the custom ad blocker rule(s) and the page will load as expected.