What does this information mean?
Prerequisites
Edit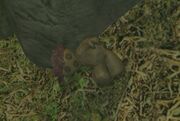 Help Vripp find a lost toy. When looking for the toy, keep in mind the following:

The toy spawns randomly throughout the zone and may be located on top of walls, between tree roots, or within huts.
It looks like a small version of Billy from Nektropos Castle.
Turning off flora may make your search easier.

Speak with Vripp for your reward.