Ad blocker interference detected!
Wikia is a free-to-use site that makes money from advertising. We have a modified experience for viewers using ad blockers

Wikia is not accessible if you've made further modifications. Remove the custom ad blocker rule(s) and the page will load as expected.
In-Game Examine Window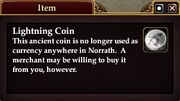 EverQuest II Item Information
Type: Looted Treasure

Lightning Coin

This ancient coin is no longer used as currency anywhere in Norrath. A merchant may be willing to buy it from you, however.
 
 

Obtain: Reward for completing the quest Cleansing the Corruption
\aITEM 1334268282 95602381:Lightning Coin\/a \aITEM 1334268282 95602381:Lightning Coin\/a
What does this information mean?
The only apparent use for this item is to sell as vendor trash to a merchant.