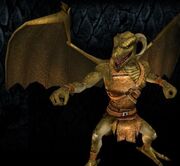 .
What does this information mean?
Mostly tank and spank. He has a spell that can lower a party member a few levels (from 95 went down to 92).
When mob emotes he is amassing energy beam, he will nail tank with it and it hits for A LOT! It may be a good idea to either dps this guy ASAP or have death prevention on tank. This mob doesn't have a lot of HP so it should be fairly easy to take down.
Ad blocker interference detected!
Wikia is a free-to-use site that makes money from advertising. We have a modified experience for viewers using ad blockers

Wikia is not accessible if you've made further modifications. Remove the custom ad blocker rule(s) and the page will load as expected.