In-Game Examine Window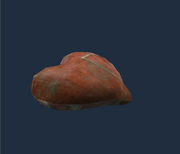 EverQuest II Item Information
Type: House Item

Leather-Patched Heart Pillow

This item can be placed in your house or guild hall.

In the spirit of Erollisi you have been rewarded with this exquisite candle. You may place it in your home to warm the hearts of those you love.

 
NO-VALUE

Obtain: Reward from the quest "A Cold-Hearted Snake."
\aITEM -1553258641 -545822983:[a love candle]\/a \aITEM -1553258641 -545822983:[a love candle]\/a
What does this information mean?
| | |
| --- | --- |
| | This article refers to events, personae, items and activities only present in-game during the annual Erollisi Day festivities, which come to Norrath each year for a short time roughly around February 14th. |
Ad blocker interference detected!
Wikia is a free-to-use site that makes money from advertising. We have a modified experience for viewers using ad blockers

Wikia is not accessible if you've made further modifications. Remove the custom ad blocker rule(s) and the page will load as expected.