EverQuest 2 Quest Information
Journal Category
Queen's Colony
Journal Level
5 (Tier 1)
Journal Difficulty
Solo
Starting Zone
Queen's Colony more
How to Start
Examine the mermaid statue under water at near Razortooth Falls ( 4, -13, -80 ) 

/waypoint 4, -13, -80
What does this information mean?
Description
Edit
"I found a statue under the waters of the isle that appears to be a lesser deity named Lasydia. After reading the inscription chiseld on it I feel a great need to make the waters around me safer. My immediate thought is to remove the threat to others that the razortooth sharks pose.
It is Lasydia's desire that I slay 5 razortooth sharks."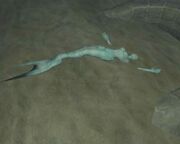 Examine Lasydia's statue under water not far from Razortooth Falls.

Examining the statue provides you with an automatic 12 minute buff that allows you to breath under water.
Razortooth sharks are not plentiful. You may run out of air before you find all the sharks you need to complete the quest.

Kill 5 razortooth sharks.