In-Game Examine Window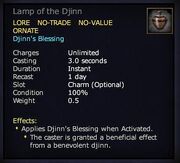 Lamp of the Djinn

LORE  NO-TRADE  NO-VALUE  ORNATE
Djinn's Blessing
 
Charges
Unlimited
Slot
Charm (Optional)
 
Effects:


Applies Djinn's Blessing when activated.

The caster is granted a beneficial effect from a benevolent djinn.
Obtain: /claimed via a Special Legends of Norrath card for attending FanFaire 2007
What does this information mean?
Random effects
Edit
Please add the random effects to the Effects section of the talk pagesubpage. Please leave your class/level too
Ad blocker interference detected!
Wikia is a free-to-use site that makes money from advertising. We have a modified experience for viewers using ad blockers

Wikia is not accessible if you've made further modifications. Remove the custom ad blocker rule(s) and the page will load as expected.