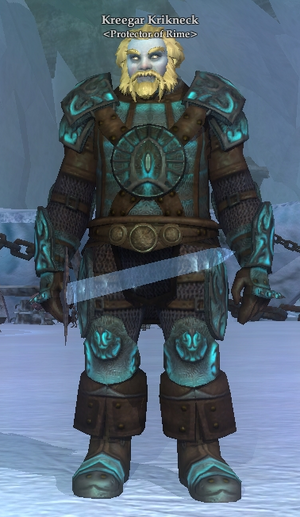 Kreegar Krikneck has been found in three locations known to date.
What does this information mean?
Spawns 2 adds that must be off tanked every so often.
Has a powerdrain elemental aoe that drains more power the further you are.
Has a trauma aoe that does more damage the closer you are.
He has an attack called "massive smash" on a timer that can sometimes one shot tanks

He requires two tanks, he will periodically drop one tank to the bottom of the aggro table and may elevate one player (not sure!), so the second tank should sit around 80% aggro ready to grab it fast.
Save your cooldowns to survive the massive smash to make the fight easier on healers.
Ad blocker interference detected!
Wikia is a free-to-use site that makes money from advertising. We have a modified experience for viewers using ad blockers

Wikia is not accessible if you've made further modifications. Remove the custom ad blocker rule(s) and the page will load as expected.