What does this information mean?
This quest is Chapter 2, part 1 of the Swords of Destiny Timeline.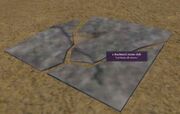 Examine a book behind The War Ancient of Zek in the first room.
Kill Emperor D'Vinn to get the box The Tools of Vhalen and examine it.
Go to Vhalen's Tower in Antonica and play the bell to talk to a vision of Vhalen. He sings you an epic poem, and gives you a copy of the text, Knights in the Round.

Begin collecting 50 (yes, 50) statuettes of Marr Knights scattered across Norrath. See Statues below
Be ready to jump up onto the table/shelf/ledge/etc. where these statuettes are located; it may only be waist- or knee-high to your toon but the game will tell you, "You cannot see your target!", when you attempt to Investigate them.

Place the statuettes on a fractured stone slab ( 522, -48, 293 ) 

/waypoint 522, -48, 293

in the The Ruins of Val`marr in the The Commonlands. A vision of Sir Vallius Bayle appears.
Speak with Sir Vallius Bayle to finish the quest.
The complete text of Knights in the Round with clues is on the Song page.
The complete list of statues sorted alphabetically by zone is here
The complete list of statues grouped by geography (region/zone) is here
Ad blocker interference detected!
Wikia is a free-to-use site that makes money from advertising. We have a modified experience for viewers using ad blockers

Wikia is not accessible if you've made further modifications. Remove the custom ad blocker rule(s) and the page will load as expected.