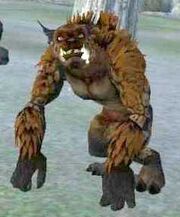 .
What does this information mean?
Has a trauma based AoE/knockback and enrages doing more damage every so often (maybe 15 seconds). You have to burn him down fast enough he doesn't hit too hard.
His size enlarges, and his DPS goes up the longer you take to fight him.
Ad blocker interference detected!
Wikia is a free-to-use site that makes money from advertising. We have a modified experience for viewers using ad blockers

Wikia is not accessible if you've made further modifications. Remove the custom ad blocker rule(s) and the page will load as expected.