Kaladim
Talk

6
71,507pages on
this wiki
EverQuest II Zone Information
What does this information mean?
NOTE:

A discussion page exists which may contain more information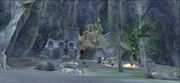 Note that Kaladim was reworked with LU55 and Sentinel's Fate for a more streamlined progression. Kaladim used to be a level 60-69's dungeon.Edit
Ring Events
Edit
Guard Towers

(-161,45,-239)
(-117,45,-222)
Clear the mobs on each level to spawn a new set of mobs. Clear the new mobs to spawn the tower boss. Avoid fighting in the middle room as the mobs on the top floor will aggro.

Bank Vault

Opened with a blasting keg dropped from NPC Great Grenadier Gonga

Clear platform at (117, 28, -103) of bugbears until Gonga spawns
Loot [a blasting keg] from the small chest he drops. Will drop when grey.
Place the keg in a niche in the bank wall at (-6, 26, -222). There is no label, but an interact hand pops up when the mouse is over the spot.
Back away fast.

Miners
Avatar
For a list of possible Expert "blue shiny" spawn points for this zone, see this list.