Ad blocker interference detected!
Wikia is a free-to-use site that makes money from advertising. We have a modified experience for viewers using ad blockers

Wikia is not accessible if you've made further modifications. Remove the custom ad blocker rule(s) and the page will load as expected.
In-Game Examine Window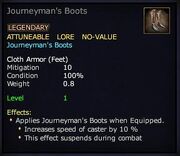 Journeyman's Boots

LEGENDARY
ATTUNEABLE   NO-VALUE
Journeyman's Boots
 
Cloth Armor (Feet)
Mitigation
10
Level
1 (Tier 1)
 
Effects:


Applies Journeyman's Boots when Equipped.

Increases speed of caster by 10%
This effect suspends during combat
Obtain: /claim from the PreOrder Version of the original Everquest 2.
What does this information mean?
These are/were L1 Jboots available to Claim after "consuming" a special registration code contained in the "Starter Pack" for Everquest2 when you preordered. (The pack also contained an early version of the character creator on a CD so you could pre-make your Model and save it as a preset so you were ready to go at launch)