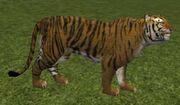 .
What does this information mean?
To spawn JoJo, you must first speak with Telloc Thaar who summons the Tiger. The player(s) who summon JoJo will be temporarily stunned -- but this effect should wear off before JoJo aggros against your group. Once he attacks you, burn him down.
Ad blocker interference detected!
Wikia is a free-to-use site that makes money from advertising. We have a modified experience for viewers using ad blockers

Wikia is not accessible if you've made further modifications. Remove the custom ad blocker rule(s) and the page will load as expected.