Ad blocker interference detected!
Wikia is a free-to-use site that makes money from advertising. We have a modified experience for viewers using ad blockers

Wikia is not accessible if you've made further modifications. Remove the custom ad blocker rule(s) and the page will load as expected.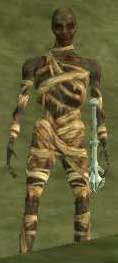 .
EverQuest II Named Monster Information
Zone (Patch)
The Silent City (Desert of Flames)
Race
Mummy
Level
60▲▲▲ Tier 7 Epic x2
Location
This mob is spawned on the west side of the zone. This is a dynamic camp surrounding the "Monolith of Luna" & "Monolith of Rhoen" at ( 853, 0, 503 ) 

/waypoint 853, 0, 503

and ( 979, 0, 438 ) 

/waypoint 979, 0, 438

Reported Drops
AA Exp
unknown
Status Points
unknown
What does this information mean?
He is a level 60^^^ Epic x2 with 4 adds