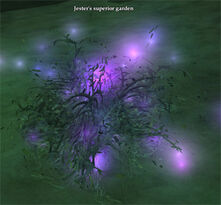 This bush appears as part of the Bristlebane Day holiday event for one day only.
It can only be found in Enchanted Lands and is only available on April 1st. It appears as a light green bush shrouded in a sparkling purple particle effect.
Materials
Edit
Gathering from this bush will yield a random mix of special holiday crafting components from any annual live event.
Materials are random and could be from any of the following events:
This is NOT to be confused with the regular Jester's garden bushes which appear in multiple zones for the duration of the Bristlebane Day event.
| | |
| --- | --- |
| | This article refers to events, personae and activities only present in-game during the annual Bristlebane Day celebration, which comes to Norrath each year on and around April 1st. |
Ad blocker interference detected!
Wikia is a free-to-use site that makes money from advertising. We have a modified experience for viewers using ad blockers

Wikia is not accessible if you've made further modifications. Remove the custom ad blocker rule(s) and the page will load as expected.