Ad blocker interference detected!
Wikia is a free-to-use site that makes money from advertising. We have a modified experience for viewers using ad blockers

Wikia is not accessible if you've made further modifications. Remove the custom ad blocker rule(s) and the page will load as expected.
The Item, Location, Quest, Mob or NPC referred to by this page has been removed from EverQuest II.
This article is being retained for historical reasons
During LU33, Deathfist Citadel was revamped from Epic x2 to Group. Reetok Bleeder and Jarun Breaker were removed from the game and replaced with Vigo Cerebus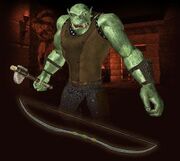 .
What does this information mean?