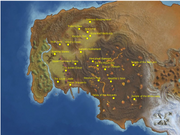 Travel within the Zone
Edit
Travel within the zone can be done quickly using the Sokokar to fly to various locations.
If traveling from the Kylong Plains docks using the "world bell" globe, the nearest sokokar you can take to Jarsath is at Dreg's Landing (near the dock).
Travel to Connected Zones
Edit
This zone connects to:
Obulus Frontier - the Frontier is accessed by entering a cave at ( -1277, -16, -716 ) 

/waypoint -1277, -16, -716

.
This single zone contains the EQ1 zones known as The Overthere and The Skyfire Mountains.
For a list of possible Expert "blue shiny" spawn points for this zone, see this list.
Ad blocker interference detected!
Wikia is a free-to-use site that makes money from advertising. We have a modified experience for viewers using ad blockers

Wikia is not accessible if you've made further modifications. Remove the custom ad blocker rule(s) and the page will load as expected.