What does this information mean?

Gelik Thwaxby, a gnemlin within Maldura's Alcove of Reason, knows a great deal of mechanamagica. He has recruited me to recharge the arcane defense pillars within Stoneheart Yards. They helped defend the city from the Aberrants' arcane attacks.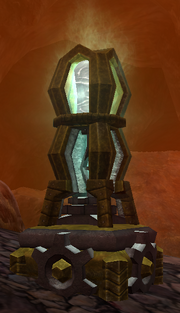 Recharge 5 an arcane defense pillars in the Stoneheart Yards in Thalumbra. These are "obelisk-shaped armatures of gnomish design, as tall as a Teir'Dal, complete with spinning gears and a glowing umbrite focus gem". Possible locations:
Click each pillar.
Kill spawning mobs at each pillar. Mobs have a high damage trauma AoE DoT.
Return to Gelik Thwaxby
Ad blocker interference detected!
Wikia is a free-to-use site that makes money from advertising. We have a modified experience for viewers using ad blockers

Wikia is not accessible if you've made further modifications. Remove the custom ad blocker rule(s) and the page will load as expected.