Ad blocker interference detected!
Wikia is a free-to-use site that makes money from advertising. We have a modified experience for viewers using ad blockers

Wikia is not accessible if you've made further modifications. Remove the custom ad blocker rule(s) and the page will load as expected.
In-Game Examine Window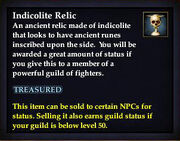 EverQuest II Item Information
Type: Status Item
Awards AA

Indicolite Relic

An ancient relic made of indicolite that looks to have ancient runes inscribed upon the side. You will be awarded a great amount of status if you give this to a member of a powerful guild of fighters.
 
 
TREASURED
This item can be sold to certain NPCs for status.


Selling it also earns guild status if your guild is below level 55.

Obtain: Dropped by Sentient Beings levels 50 - 59
\aITEM -828547253 1840938583:Indicolite Relic\/a \aITEM -828547253 1840938583:Indicolite Relic\/a
What does this information mean?
This status item, is accepted by the following NPC's for 500SP: