Ad blocker interference detected!
Wikia is a free-to-use site that makes money from advertising. We have a modified experience for viewers using ad blockers

Wikia is not accessible if you've made further modifications. Remove the custom ad blocker rule(s) and the page will load as expected.
In-Game Examine Window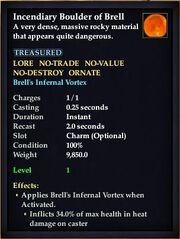 Incendiary Boulder of Brell
A very dense, massive rocky material that appears quite dangerous.

TREASURED
LORE   NO-TRADE   NO-VALUE   NO-DESTROY   ORNATE
Brell's Infernal Vortex
 
Charges
1/1
Slot
Charm (Optional)
Level
1 (Tier 1)
 
Effects:


Applies Brell's Infernal Vorex when Activated

Inflicts 34.0% of max health in heat damage on caster
Obtain: Placed in your inventory during an encounter with the Avatar of Below
What does this information mean?
Although this bauble is given to you by the Avatar of Below, it is NOT a gift! It is a curse. You cannot move while holding it (it weighs over 9800 lbs!), you cannot get rid of it unless you use it, and using it will do 34% of your max health in heat damage... to YOU!