In-Game Examine Window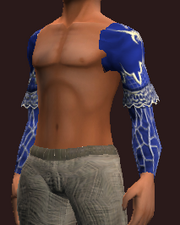 \aITEM 129975643 -1104869031:Illuminating Cowl\/a \aITEM 129975643 -1104869031:Illuminating Cowl\/a
What does this information mean?
Armor Set: Illuminating
---
(2) +475 vs physical
(3) Applies Critical Spell Damage Boost.

Increases Crit Chance of caster by 3.0

(4) Applies Focus: Chromatic Shower II.

Increases damage of Chromatic Shower II by 40.

(5) Applies Ward of Sanctuary.

When damaged this spell has a 10% chance to cast Ward of Sanctuary on caster. Lasts for 10.0 seconds.

Wards caster against 1902 points of all damage

(6) Applies Mastery: Mental Damage.

Reduces resistibility of mental based spells and abilities by 10%.
Equipped without the blouse.
Ad blocker interference detected!
Wikia is a free-to-use site that makes money from advertising. We have a modified experience for viewers using ad blockers

Wikia is not accessible if you've made further modifications. Remove the custom ad blocker rule(s) and the page will load as expected.