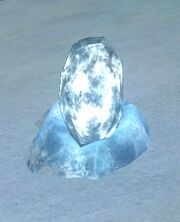 What does this information mean?
Collect 8 Infused Velium Shards in The Great Divide. They are very sparse, randomly-spawning, non-trackable harvestable nodes in the area outside of Thurgadin (Ring War and Wyrm areas). They look similar to gem nodes from Kunark zones. The pop most on the clift edges around the shardwurm area, if you do see any around the war area which had a few when I was on my last one. Check war area first then do loop the wurm edges then come back, War area at ( 206, -340, -492 ) 

/waypoint 206, -340, -492

♙
Return to Cryomancer Eriden.
Ad blocker interference detected!
Wikia is a free-to-use site that makes money from advertising. We have a modified experience for viewers using ad blockers

Wikia is not accessible if you've made further modifications. Remove the custom ad blocker rule(s) and the page will load as expected.