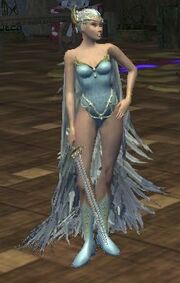 .
EverQuest II Named Monster Information
Zone (Patch)
The Icy Keep (Shattered Lands)
Race
Valkyrie
Level
Scales▲▲▲ Heroic
Location
In the cave at the end of the zone, after you jump down the chimney hole and break through two walls. ( -76, -47, -314 ) 

/waypoint -76.15, -46.85, -314.45

Reported Drops
Special Attacks

Spawns an increasing number of Icy Shards as the fight progresses

AA Exp
Yes
Status Points
none
What does this information mean?
D'Ina may be immune to stuns. Also, the Icy Shard adds she spawns are like mage pets: they will die when she dies. So if you can survive the adds, focus only on killing the Ice Maiden.