In-Game Examine Window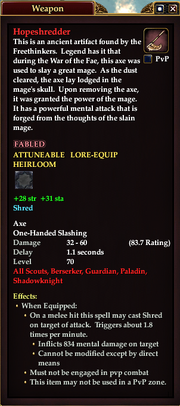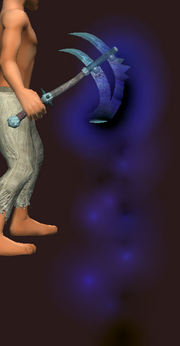 Hopeshredder
This is an ancient artifact found by the Freethinkers. Legend has it that during the War of the Fae, this axe was used to slay a great mage. As the dust cleared, the axe lay lodged in the mage's skull. Upon removing the axe, it was granted the power of the mage. It has a powerful mental attack that is forged from the thoughts of the slain mage.


FABLED
ATTUNEABLE  LORE-EQUIP  HEIRLOOM
 

+28 str

+31 sta



Shred
 
Axe
One-Handed Slashing
Damage
32 - 60                  (83.7 Rating)
Delay
1.1 seconds
Level
70 (Tier 8)
All Scouts, Berserker, Guardian, Paladin, Shadowknight
 
Effects:


When Equipped:

On a melee hit this spell may cast Shred on target of attack. Triggers about 1.8 times per minute.

Inflicts 834 mental damage on target
Cannot be modified except by direct means

Must not be engaged in pvp combat
This item may not be used in a PvP zone.
Obtain: From Malkonis D'Morte in Freethinker Hideout.
\aITEM 900168275 1097963343:Hopeshredder\/a \aITEM 900168275 1097963343:Hopeshredder\/a
What does this information mean?