What does this information mean?

By the looks of it, this old fisherman's bones have been stripped clean by the ocean's predators, hopefully after the poor sap was dead! There's no shortage of dangerous beasts in these waters. I should clear them out as quickly as possible.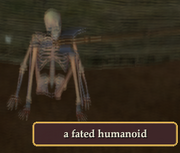 Note: This is a 5 minute timed quest.
Found in all versions of Zek, the Scourge Wastes:
Slay 20 ocean predators before time runs out.