Ad blocker interference detected!
Wikia is a free-to-use site that makes money from advertising. We have a modified experience for viewers using ad blockers

Wikia is not accessible if you've made further modifications. Remove the custom ad blocker rule(s) and the page will load as expected.
In-Game Examine Window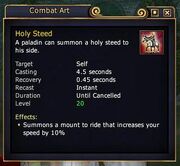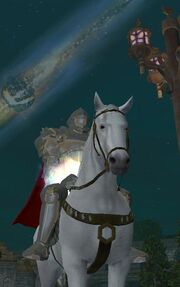 WARNING:This template depreciated, please use Template:SpellInformation2 when updating
| | |
| --- | --- |
|  Casting Time |  5.0 seconds |
|  Recast time |  Instant |
|  Duration |  Until Cancelled |

A paladin can summon a holy steed to his side.
What does this information mean?
Summons a mount to ride that increases your speed by 10%
This spell can be acquired by going to your Paladin trainer once you reach adventure level 20.